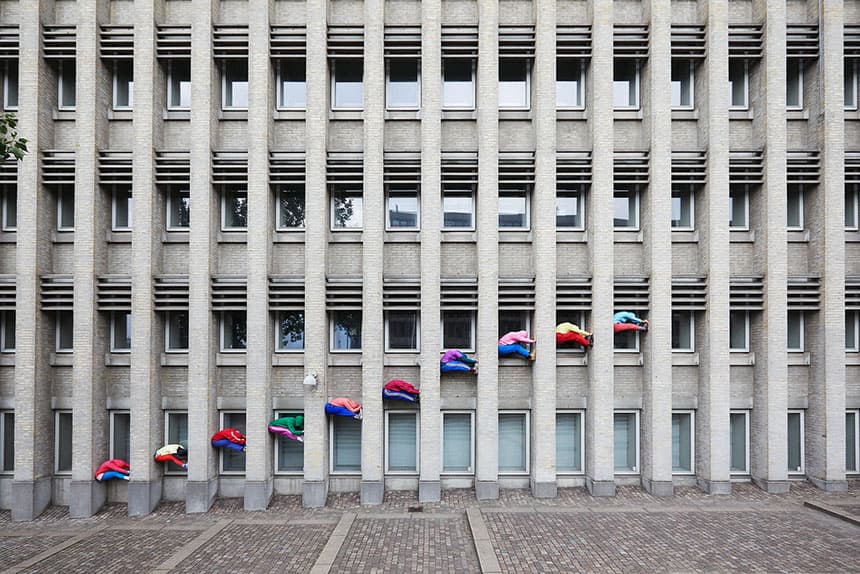 a moving trail for a group of dancers
bodies in urban spaces is a moving trail, choreographed for a group of dancers. The performers lead the audience through selected parts of public and semi-public spaces. A chain of physical interventions set up very quickly and only existing temporarily, allows the viewer to perceive the same space or place in a new and different way – on the run.
The project has been performed in more than in 110 cities in the world i.g. NYC, London, Moscow, Vienna, Sao Paolo, Montreal, Macau, Paris, Sydney, Copenhagen, Berlin…
prints are available in several sizes, please contact us!
bodies in urban spaces – the book has been published at Hatje Cantz Verlag in 2014
Concept
Willi Dorner
Photos
Lisa Rastl
Performers
local performers
Assistance
Esther Steinkogler, Ian Dolan, Nicholas Keegan
Scotsman, UK
Mark Fisher, August 2017
Created by Austrian artist Cie Willi Dorner, it is both arresting and beautiful, delighting not only those on the tour but also passers-by who have no clue what's going on. The freeze-frame choreography created in response to the architecture makes you look at the built environment with fresh eyes, the bodies, being both ordered and organic, reflecting and defying the solid structures around them.
The Philadelphia Inquirer
Lisa Kraus, September 2008
…. Bodies in Urban Spaces, besides being a wonder of organization and stamina, was a model of public art: free, fun, and transformative.
Kronenzeitung
Salzburg, Juni 2016
"Among the highlights: Dorner's city walk through Lehen and Jérôme Bel's opening gala."
The Daily Telegraph
Sarah Crompton, October 2009
…. Sometimes the effect is humorous (two bottoms and two soles of feet peeping out from a gable above a house; a pair of legs emerging from behind a wall) and sometimes vaguely sinister (a body rammed into a bike rack, neck cricked, legs straight in the air).
Te physical strength and concentration required for such feats is extraordinary. But the pleasure for the viewer comes from the way you suddenly spot a form in an unexpected place.
…. It's free, fun, and stimulating – a brilliant way to spend a sunny afternoon.
Ballet.magazine, UK
John Mallinson, October 2009
…. Cie. Willi Dorner's bodies in urban spaces is one of those pieces that thankfully defy categorisation, being neither dance, nor street theatre – use artspeak and call it an urban intervention or performance art if you will, or living sculpture, or fun.
How we fit into urban spaces is addressed in a completely literal, funny and rather touching way and the contrast between the obdurate building, materials and the malleability of the human body is rarely so clear.
… the space between a lamppost and a wall will not be the same.
Schön! Magazine UK
Patrick Clark , September 2016
A philosophical take on the city as lived and experienced space, Dorner and his series Bodies in Urban Spaces, for which he has gained global attention, sees dancers coming into contact with the space they visit.
..
Through the stimulating experience that is his choreographed work, Dorner reintroduces vigor and energy into public space …