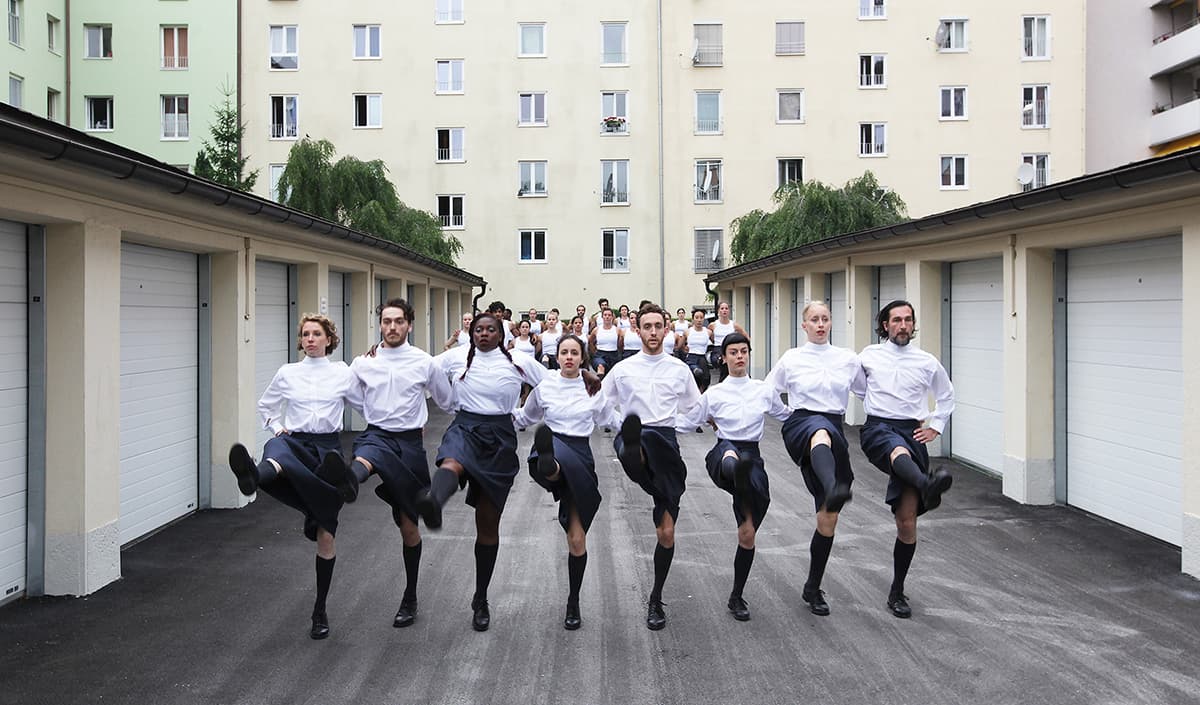 a performance – walk guided by 8 dancers through city – spaces
"every-one" is a performance through the urban space led by a group of 8 dancers. The 1920s mark the beginning of modern, urban life. It is the time of serialized, industrial production. Willi Dorner draws a parallel between the time of the 1920s and our time today. The dance of the 1920s reflects these developments with aesthetic manifestations such as the equipment revues or the girl troops with their synchronous formation dances. Hidden behind apparently "naive" entertaining girl revue dances, a performance and production principle becomes visible that has already economized and appropriated life extensively. A group of 8 dancers leads the visitors through an urban area, the architectural environment of which is characterized by density, uniformity and multiplication of the same house model.
With the support from La Briqueterie, Vitry-sur-Seine, Paris.
With the support from the cultural office of the City of Vienna.
This performance has received a Production aid by the IN SITU network, in the frame of the META project. This project has been funded with support from the European Commission (DGEAC – Culture programme)
Concept / Choreography
Willi Dorner
Choreographic assistant
Esther Baio
Performer
Esther Baio, Britt Kamper, Hugo Le Brigand, Emily Mézières, Christelle Nazarin, Raquel Odena, Stève Paulet, Luan de Lima da Silva
Costumes, Props
Katharina Heistinger
Costume and Props Assistant
Alba Marie Rastl
Co-Production
Provinciaal Domein Dommelhof/Neerpelt, La Strada, Graz, Lieux publics, Centre national de création, Marseille, Festspielhaus St. Pölten
2016 Sommer Szene Salzburg, Salzburg, Austria premiere, Theater op de Markt, Hasselt, Belgium company version premiere
2017 Vivacité, Sotteville-les-Rouen, France , La Strada, Graz, Austria, CIRK!, Aalst, Belgium, Nuit Blanche de Bruxelles, Brussels, Belgium
2018 Festival Santiago a Mil, Santiago, Chile South American premiere, brut Wien, Vienna, Austria, SPRING, Utrecht, Netherlands, Städtische Galerie im Park, Viersen, Germany
2019 KunstFestSpiele Herrenhausen, Germany, Seoul Street Art Festival, S. Korea
Der Standard
Helmut Ploebst, Juni 2016
Sommerszene Salzburg: The Lust of Fright of Men-Machines
Erna Ómarsdóttir and Willi Dorner impress with social machines as Grey Sox or Horders and with weathering resistance respectively. The festival still runs until Saturday.
Salzburg – Thunderbolts flash through yellowish grey clouds. Gusty breezes swirl sheets of rain across the sky. Meanwhile the dancers have completed their warm-up exercises. An intrepid audience is huddled together under the extended canopy of a supermarket on this early Saturday evening. Thunder crashes, rumbles and rolls across the skies in the Salzburg district of Lehen. Under such conditions, Willi Dorner would easily have been forgiven for cancelling the premiere of his new "every-one" urban space performance at the "Summer Scene" Festival right at the last minute. But the risk-taking Viennese choreographer says he is determined to go ahead with the show, or at least to get it started. Most people agree with him. After all, if you work in the field of contemporary dance you have to be prepared for anything. Five women and three men are lined up in a row halfway below the high passageway of a large building around the corner, all of them dressed in neat white blouses (even though the blouses are inside-out) and stiff skirts, knee-high socks and flat dark grey shoes. The group kicks off with a cheerful synchronised dance – and it looks as if they'll see their performance through to the end. First, because the rain has eased up a little and second, perhaps, because thunder and lightning are an appropriate backdrop to the turbulent years of the 1920s, the cultural highs and lows of which form the leitmotiv of "every-one". The audience follows the performers who rush through the suburban roads and play with words printed on paper, before a further 19 dancers appear in a nearby park. The group becomes a troupe bearing the eerie ambivalence of the Roaring Twenties and their reflection in the present day as it moves through Salzburg's suburban residential areas to the city library. At this point it performs a brisk formation dance to accompany George Antheil's music for Fernand Leger's "ballet mécanique" (1924). This flows into what looks like a Busby Berkeley dance review in a goose-stepping parade held between two rows of garages.
Times of crisis
Even so, the eeriness has yet to reach its highpoint this evening: Directed by Erna Ómarsdóttir, the Iceland Dance Company has built a dark cavern in the Republic building. Dorner directs his coherent historical concept – the relationship between the 1920's and today – through the city, and by doing so, draws Ómarsdóttir and her
fellow choreographer Damien Jalet to the spotlight of the theatre stage in a production
entitled "Black Marrow". The event explores the growing greed of communities in times of crisis after their transformation into social machines. In former times, these were mechanical. Today, they are digital.
…
In his uncluttered concept, Dorner moves along the first avant-garde while Ómarsdóttir and Jalet cram a thousand and one contexts into their piece, almost as if they were compulsive hoarders. Both works show how deeply communities are mired in their own inherent contradictions and how hard it is for them to resolve such inconsistencies."
No matter if they draw abstract patterns with lines on plates into the air, or hold up the lyrics of songs like 'I don't need millions', the uniformed seriousness, the straigth look, the exactly synchronized activities, this all attests to a system of equalization how it is intrinsically tied to the industrial mass production or military training. Willi Dorner however now puts this standardization into a smart relation with early 20th century's revue dances and shows with easy, but effective chorus line routines, that an epoch's spirit extends to all aspects of society."
"With every-one Willi Dorner and his wonderful dancers […] succeed in creating a humorous and entertaining intervention in public space"
Kronenzeitung
Salzburg, Juni 2016
"Among the highlights: Dorner's city walk through Lehen and Jérôme Bel's opening gala."
Kronenzeitung
Steiermark, August 2017
"From hits like 'I don't need millions' and gorgeous show elements, to the beginning militarisation goes the spectrum, that is shown by the eight perfectly coordinated performers in backyards, on parking lots and parks around the Schrödingerschule – always their fascinated audience behind them. And also some of the area's interested inhabitants."